InfoChip
InfoChip Communications
InfoChip Communications is North America's leading provider of telephone on-hold marketing services and systems. Our 100% digital system of production and playback ensures CD quality production throughout. No moving parts. No maintenance. Just plug in… and play!
Advantages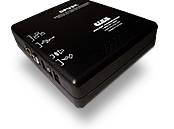 Maximize sales opportunities
Highlight specials
Cross Sell additional services and products
Supplement existing advertising plans
Strengthen your corporate image
Lower your number of lost calls
Ease your callers' possible aggravations while on hold
Lessen their perception of hold time
Alleviate stress on your staff
Develop a more relaxed connection with your callers
For placing orders, please contact ATS Communications at (925) 602-1500.
---