Toshiba Battery Backup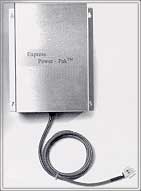 Express Power Paks are custom-designed, rechargeable battery back-up systems. The Power Paks come ready to mount and plug into the Battery Connection on the Power Supply Unit.
Up to 8 hours of battery back-up!
Express Battery Backup/Power Pak
Keep your phones and voicemails working when the power fails. The Express Power Paks are a self contained wall mountable battery back-unit with 24-volt rechargeable batteries, an aluminum case, and a cable to attach the CIX/CTX power supply (No Toshiba cable required). If more than one cabinet is to be powered, a power pak adaptor can be added.
For placing orders, please contact ATS Communications at (925) 602-1500.
---