October 19th, 2017 by admin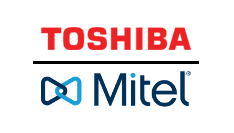 We love the good news from Mitel – they have acquired Toshiba's assets and will still be supporting the current Toshiba platforms for at least five years! This means that your recent investments in Toshiba solutions will have many years of benefits for you and your business. We also have a better picture now of the roadmap for current Toshiba users and are pleased to share the information with our customers.
ATS is here to help guide you with which direction you can take your current Toshiba system. We've sorted the different options under two main categories – cloud-based or premises-based solutions.
We recommend considering VIPedge if you are using a Toshiba system and want to remain with or switch to cloud-based solutions. This will save you the high costs of hosting your phone system onsite, while providing new mobility and flexibility for your communications.
There are various options for customers looking to use a premises-based system. If you're already a Toshiba customer, you can either stay with IPedge or Strata CIX, alternatively you can also consider and evaluate MiVoice Business or Office 250. Our professional team can advise you on the best route to take, depending on your current and future needs. Take a look at our new decision tree and check the FAQ for any questions you have.
Posted in: Mitel